Scaffold Casters
MEDIUM AND HEAVY PLATE BRAKE
Using the same principle as the "SB" Series, the embossed shoe brake engages the notched top swivel raceway and the wheel  Simultaneously. Both swivel raceways are hardened for longer wear. Grease fittings are standard with every model, in the wheel as well as the swivel. Electro-plated finish. Nut and bolt axles. With the "200-SK" Series, additional top plate sizes are available.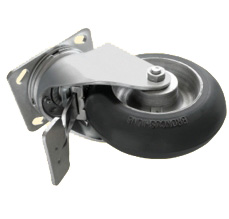 200-6UN-SK-B
Spreadsheet
• 6" rubber on aluminum
• SK total lock brake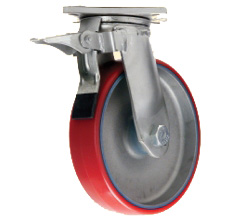 400-12UL-PB
Spreadsheet
• 12" polyurethane on aluminum
• PB brake locks swivel and wheel
• Anti-friction roller bearing
WARNING! DO NOT RIDE ROLLING TOWERS! Check that caster is securely locked before climbing scaffolding. Do not attempt to use if caster is faulty or has not been maintained.