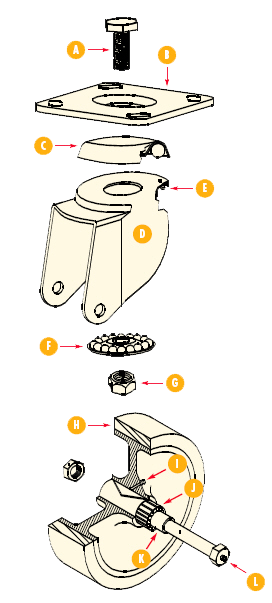 BASE & BRACKET ASSEMBLY
A. King Pin
The essential ingredient. Can be nut and bolt, riveted, or
staked.
B. Top Plate
Sometimes referred to as the base plate. Usually has four
mounting holes.
C. Top Cup & Raceway
With double ball bearing swivels, the upper raceway
carries the load and the wider the better.
D. Bracket
May be stamped, cast, welded, drop forged, etc. Referred toas the yoke, rig, horn, etc.
E. Lubrication
A fitting may be provided for greasing the raceways.
F. Lower Cup & Raceway
The lower raceway allows for more ball contact, absorbs side thrust, and affords better swiveling action.
G. King Pin Nut
Can be tightened for lower tolerances on nut and bolt
style kingpin.
WHEEL
H. Size & Tread Width
For example, a 6 x 2 wheel is 6" diameter, with a 2" tread
width or wheel face.
I. Lubrication, Hub
A fitting is sometimes located in the hub for anti-friction
bearings.
J. Wheel Bearing
Can be Plain, Delrin, Oilite, Anti-Friction: Roller, Ball, or
Timken.
K. Spanner Bushing
Round, cylindrical. Spans between the bracket legs, within
the bearing and over the axle, allowing the wheel to rotate.
L. Lubrication Axle
If desired, lubrication can be applied through the axle,
through the spanner, and into the antifriction bearing.
AXLE ASSEMBLY
Nut and bolt axles can be replaced. Shouldered types do not necessarily require a spanner.