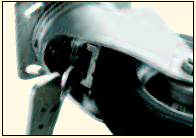 'SK' SUPER LOCK
The "SK" brake locks the wheel and the swivel simultaneously with a touch of the toe. A cam actuated spring mechanism engages the serrated lower swivel area and also applies pressure on the wheel surface. Quick release. Super positive braking action. Available with the Light Medium 050 and 060 Series, the Medium Duty 070 Series, as well as, Medium Heavy Duty 200 Series. Stem models in the series listed above are also available with this super locking mechanism.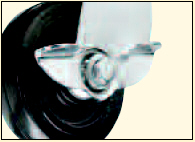 'WK' BRAKE
This is a simple and effective wheel brake design. Press one lever with a touch of the toe, and pressure is applied against the hub of the wheel in order to lock securely. Press other arm of lever to release.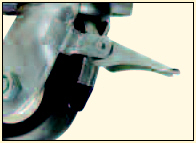 'WB' BRAKE
The "WB" Brake has been designed for heavier duty casters, affording positive locking action against the wheel. By pressing "Down" on the handle, the cam action locks the brake shoe positively against two pressure points— the wheel surface and a specially contoured steel bar. Release "Up" and you're ready to roll.
---