Scaffold Casters
HEAVY DUTY SERIES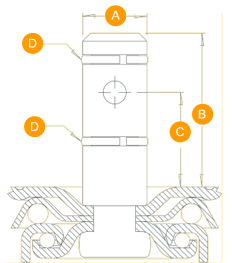 Up to 12" wheels, including Full Pneumatic! The "403-SB" has been engineered for heavy duty towers. Alemite fittings for swivel and wheel. Hardened swivel raceways. The formed and hardened brake shoe locks both the swivel and the wheel at the same time. Various stem sizes available. See spec sheet.
---
WARNING! DO NOT RIDE ROLLING TOWERS!
Check that caster is securely locked before climbing scaffolding. Do not attempt to use if caster is faulty or has not been maintained.
403-SB

 STEMS AVAILABLE

Stem #

A: Diameter

B: Length

C:
Pin Hole
D:
Rings

A

1 3⁄8

4

9⁄16 up 2 9⁄16

–

C

1 7⁄16

4

9⁄16 up 2 9⁄16

–

E

1 3⁄8

4

9⁄16 up 2 1⁄4

–

F

1 1⁄4

4

7⁄16 up 2 5⁄8

–

G

1

4

7⁄16 up 2 5⁄8

–

H

1 7⁄16

4

2

I

1 1⁄4

4

7⁄16 up 2 1⁄2

–

J

1 3⁄8

4

7⁄16 up 3

–

K

1 3⁄8

4

7⁄16 up 2

–

L

1 7⁄16

4

7⁄16 up 2 1⁄4

403-10UV-SB-A

• 10" swivel
• Bronco rubber on aluminum center
• Anti-friction roller bearing